Welcome to my Homepage
A little girl, oozing charm, sex, dynamite and heart! An act that aims at the heart – and gets it, with the warmth of a real entertainer. She'll amuse you and woo you. You'll fall a victim to the charm of the international flavour of Yvonne Carré.
This would have been a typical announcement when going on stage, radio or TV, i.e. for the general media, over the entire world which was my oyster. If it was not for 4 almost fatal accidents which came 4 years after each other, perhaps this could still be true to a great degree, but I had to stop my career abruptly if I still wanted to live and not be paralysed from the neck down. Being born active, I still appear occasionally for friends, and love to go to good shows and prime entertainment.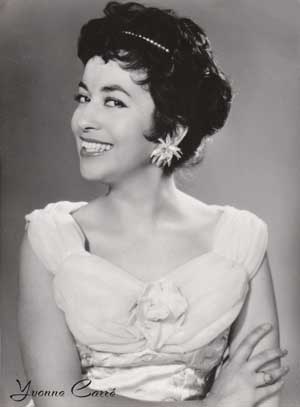 Who am I?
Born in Bermuda of a Spanish/French mother and a Turkish/Caucasian father. I was mainly a singer/entertainer and comedian, film actress and dancer. I recorded world wide in over 20 languages, the most popular being "PEPITO" which sold well over a million (an awful lot at that time)
On the following website you can see and hear just a little of my interesting and very varied life in pictures and words.
Thank you for visiting me
Sincerely yours